After her delayed but highly successful sea trials, Titanic immediately made her way to her port of departure, Southampton, arriving just before midnight on the 3rd April. However, there was still much, much work to be done before the ship could depart on April 10th, and the majority of this work involved stocking the vessel with ton after ton of linen, bedding, cutlery, glassware, beer, foodstuffs and tableware.
At the same time, the ship's general cargo began to arrive, which would require loading into Titanic's cavernous cargo holds situated fore and aft. In addition to this huge effort to get the ship ready for her maiden voyage, there were still people aboard fitting carpets, hanging curtains, arranging furniture, and painting etc.
A near-constant stream of delivery vehicles brought more and more goods to the quayside, bringing the immense amount of goods you see listed down the right-hand side of this page. Remember, it wasn't simply a case of feeding the 1,300 or more passengers; there were 900 or so hard-working members of the crew who also needed feeding three times a day!
Another major consumable that was topped-up at Southampton was the coal. Even though the Great Coal Strike was now over, the coal wasn't managing to get from the pit-heads of Great Britain to the docks yet because of the huge demand there now was for it, so many ships' voyages had been cancelled. (Cunard sent Lusitania for some maintenance work during the strike) So, White Star Line had to set about removing coal from some of their other laid-up liners, and transferring it to Titanic.
With almost 200,000 individual items of laundry aboard Titanic, there had to be comprehensive facilities on both sides of the Atlantic to clean these items and turn them around in as short a time as possible, ready for the liner's next departure. To do this, White Star Line built an extensive laundry in Southampton, adjacent to the White Star Dock, and can be seen in the two photographs here on the left.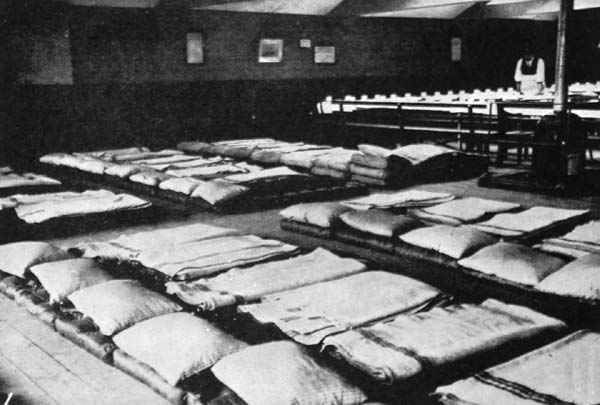 The laundry wasn't just there for Titanic's benefit, though, all of White Star's vessels putting in a Southampton stop would have put their soiled linen through the facility. It was located on the second floor of Harland and Wolff's Southampton works, and all of the machinery and equipment was of the latest design. If necessary, the laundry could operate twenty-four hours per day to deal with a large incoming liner such as Olympic.
On Good Friday, 5th April, five days before she was due to depart on her maiden voyage, Titanic was 'dressed' in her signal flags as an acknowledgement to the people of Southampton. Under normal circumstances, the general public of the city would have been allowed to tour the ship in the days leading up to her departure, but Titanic's assorted delays, coupled with the amount of work still outstanding meant that there would be no time for visiting the ship prior to her maiden voyage. So, Titanic was decorated from stem to stern, a special occasion still to be savoured by many of Southampton's residents, and the only time Titanic was ever decorated in this way.
Foodstuffs

Fresh Meat
75,000 lbs
Fresh Fish
11,000 lbs
Poultry & Game
25,000 lbs
Salt & Dried Fish
4,000 lbs
Bacon & Ham
7,500 lbs
Sausages
2,500 lbs
Fresh Eggs
40,000
Flour
200 Barrels
Sugar
10,000 lbs
Potatoes
40 tons
Onions
3,500 lbs
Rice & Dried Beans
10,000 lbs
Lettuce
7,000 heads
Tomatoes
2.75 tons
Fresh Green Peas
2,250 lbs
Fresh Asparagus
800 Bundles
Oranges
36,000
Lemons
16,000
Coffee
2,200 lbs
Tea
800 lbs
Cereals
10,000 lbs
Fresh Cream
1,200 qts
Ice Cream
1,750 qts
Sweetbreads
1,000
Grapefruit
50 Boxes
Hothouse Grapes
1,000 lbs
Fresh Milk
1,500 gal
Condensed Milk
600 gal
Fresh Butter
6,000 lbs
Jams & Preserves
1,120 lbs

Beverages & Alchohol

Beer
20,000 bottles
Wine
1,500 bottles
Spirits
850 bottles
Mineral Water
15,000 bottles

Glassware, Cutlery & Tableware

Breakfast Cups
4,500
Tea Cups
3,000
Coffee Cups
1,500
Beef Tea Cups
3,000
Cream Jugs
1,000
Breakfast Plates
2,500
Dessert Plates
2,000
Soup Plates
4,500
Pie Dishes
1,200
Beef Tea Dishes
3,000
Cut Tumblers
8,000
Water Bottles
2,500
Crystal Dishes
1,500
Celery Glasses
300
Flower Vases
500
Ice Cream Plates
5,500
Dinner Plates
12,000
Coffee Pots
1,200
Tea Pots
1,200
Breakfast Saucers
4,500
Tea Saucers
3,000
Coffee Saucers
1,500
Souffle Dishes
1,500
Wine Glasses
2,000
Champagne Glasses
1,500
Cocktail Glasses
1,500
Liquor Glasses
1,200
Claret Jugs
300
Salt Shakers
2,000
Salad Bowls
500
Pudding Dishes
1,200
Sugar Basins
400
Fruit Dishes
400
Finger Bowls
1,000
Butter Dishes
400
Vegetable Dishes
400
Entree Dishes
400
Meat Dishes
400
Dinner Forks
8,000
Fruit Forks
1,500
Fish Forks
1,500
Oyster Forks
1,000
Butter Knives
400
Sugar Tongs
400
Fruit Knives
1,500
Fish Knives
1,500
Table & Dessert Knives
8,000
Nut Crackers
300
Toast Racks
400
Dinner Spoons
5,000
Dessert Spoons
3,000
Egg Spoons
2,000
Tea Spoons
6,000
Salt Spoons
1,500
Mustard Spoons
1,500
Grape Scissors
100
Asparagus Tongs
400

Linen & Bedding

Aprons
4,000
Blankets
7,500
Table Cloths
6,000
Glass Cloths
2,000
Cooks' Cloths
3,500
Counterpanes
3,000
Bed Covers
3,600
Eiderdown Quilts
800
Single Sheets
15,000
Double Sheets
3,000
Pillow Slips
15,000
Table Napkins
45,000
Bath Towels
7,500
Fine Towels
25,000
Lavatory Towels
8,000
Roller Towels
3,500
Pantry Towels
6,500
Miscellaneous Items
40,000