Titanic carried a total of 20 lifeboats, but Alexander Carlisle, one of the managing directors at Harland and Wolff, had suggested using a new type of larger davit, which could handle more boats, giving Titanic the potential of carrying 48 lifeboats, providing more than enough seats for everybody on board.
But in a rare cost-cutting exercise, the White Star Line decided that only 20 would be carried aboard Titanic, even though that would mean that on her maiden voyage, she would only provide lifeboat capacity for 52% of the people aboard. This may seem like a carefree way to treat your passengers and crew, but in actual fact, the Board of Trade regulations stated that all British vessels over 10,000 tons must carry 16 lifeboats with a capacity of 5,500 cubic feet, plus enough rafts and floats for 75% of the lifeboats.
Obviously, these regulations were hopelessly out of date in an era which had seen the size of steamships leap up to Titanic's 46,000 tons plus. Therefore, the White Star Line were well within the law to provide such inadequate lifeboat accommodation, indeed, they actually provided more lifeboat accommodation than was required by law.
The twenty lifeboats can be split into three different types, as described below:
STANDARD LIFEBOATS – Numbers 3, 4, 5, 6, 7, 8, 9, 10, 11, 12, 13, 14, 15 & 16.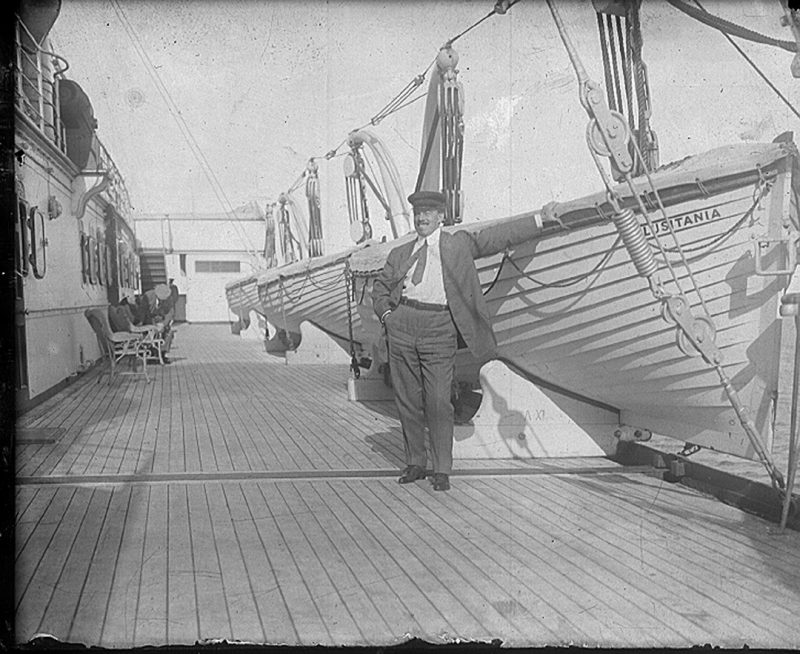 Designed by Harland and Wolff Chief Draughtsman Roderick Robert Crispin Chisholm, there were 14 standard wooden lifeboats each measuring 30′ 0″ long by 9′ 1″ by 4′ 0″ deep with a capacity of 65 persons each.
The ones on the port side were evenly numbered, starboard ones were oddly numbered.  Each boat was provided with oars, together with blankets, provisions and flares. The keels were of elm, and the stems and stern post were of oak. They were all clinker built of yellow pine, double fastened with copper nails, clinched over rooves.
The timbers were of elm spaced about 9 inches apart and the seats pitch pine secured with galvanized iron double knees. The buoyancy tanks in the lifeboats were of 18-oz. copper, and of capacity to meet the Board of Trade requirements. Life-lines were fitted round the gunwales of the lifeboats. The davit blocks were treble for the lifeboats and double for the cutters.
They were of elm, with lignum vitae roller sheaves, and were bound inside with iron, and had swivel eyes. Sails for each lifeboat and cutter were supplied and stowed in painted bags. Covers were supplied for the lifeboats and cutters, and a sea anchor for each boat. Every lifeboat was furnished with a special spirit boat compass and fitting for holding it; these compasses were carried in a locker on the Boat deck. A provision tank and water beaker were supplied to each boat.
EMERGENCY CUTTERS – Numbers 1 & 2
Titanic was also equipped with two emergency cutters, numbered No. 1 & No. 2, measuring 25′ 2″ long, and 7′ 2″ wide.
The main purpose of the emergency cutters was essentially to be available to be lowered as soon as an incident, such as a man overboard, occurred, and in order to facilitate a speedy decent when required, the two cutters would be kept swung-out, ready for use. They were also equipped with a mast and sails.
The emergency cutters were smaller than the standard lifeboats, with a capacity of 40 people.
Titanic starboard emergency cutter No. 1 is clearly visible in this picture on the left, swung out, ready for use.
ENGELHARDT COLLAPSIBLE LIFEBOATS A, B, C, & D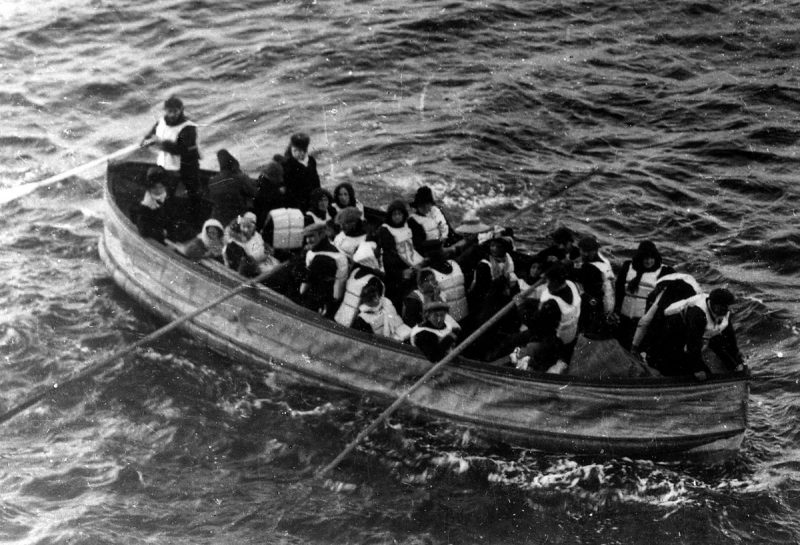 Titanic was also equipped with four Engelhardt collapsible lifeboats measuring 27′ 5″ long by 8′ 0″ by 3′ 0″ deep, and with a capacity of 47 persons each. These had collapsible canvas sides, and could be stowed almost flat against a wall or bulk-head, taking up a relatively small amount of deck space. Two were stowed port and starboard on the roof of the officers quarters, at the foot of the first funnel, while the other two were stowed port and starboard alongside the emergency cutters.