Builder: Harland and Wolff
Yard No.: 394
Launched: 1908
Maiden Voyage: 1909 Liverpool – Quebec – Montreal
Gross Tonnage: 14,892 tons
Length: 550.3 ft.
Beam: 67.3 ft.
Decks: 3
Funnels: 1
Masts: 2
Propellers: 3
Engines: 2 x 4 cylinder triple expansion + l.p. turbine driving centre prop
Boilers:
Speed: 17 knots
Port of Registry: Liverpool
Carrying Capacity: 230 first class, 430 second class, 1000 third class
Sister Ships: Megantic
When the White Star Line was planning the design of the Olympic-class liners, a major factor that had to be decided was the method of propulsion to be used. Traditionally, power was supplied by conventional triple-expansion reciprocating steam engines.
But the rival Cunard Line had gone for the relatively-new steam turbine system on its new Atlantic greyhounds, the highly successful Mauretania and Lusitania, and the dilemma now faced by White Star Line was which system to go for. A drawback with the turbine system was that Harland and Wolff had very little experience of them, preferring instead the tried-and-tested traditional setup to power the ships that they constructed.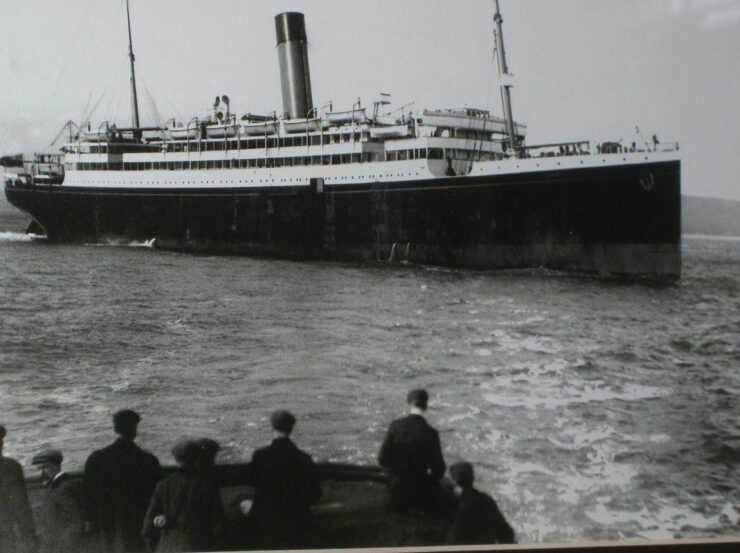 In 1907, Harland and Wolff had begun construction of the 15,000-ton Alberta for the Dominion Line. This liner's power propulsion setup was exactly what White Star was interested in, a combination of traditional triple-expansion steam engines driving the two outer propellers, with a steam turbine driving a centre propeller. This turbine utilized exhausted steam from the two steam engines, and to help them gain more knowledge about turbines.
The following year, White Star purchased the incomplete Alberta, and renamed her Laurentic. She was launched later in 1908, on September 9th, and she departed Liverpool for Montreal via Quebec on her maiden voyage on 29th April, 1909, a route she would serve on for virtually all of her woefully short life.
The White Star Line also purchased a second liner, the Dominion Line's Albany, which again was purchased incomplete on the stocks at the Belfast yard of Harland and Wolff. She had just two propellers, driven by the entirely traditional system of a port and starboard engine driving each one.
She was renamed Megantic by White Star, and would  be the perfect running partner for Laurentic on the Canada route, on which the pair of them worked hand in hand. Laurentic proved to be the faster vessel of the two, but was also the most economical too, proving that turbines really were the way ahead, and giving both the White Star Line and Harland and Wolff food-for-thought in future liner design.
Laurentic's extra turn of speed helped to shorten the journey time between Liverpool and Montreal, and in 1911, she claimed a record return journey of 13 days, 4 hours.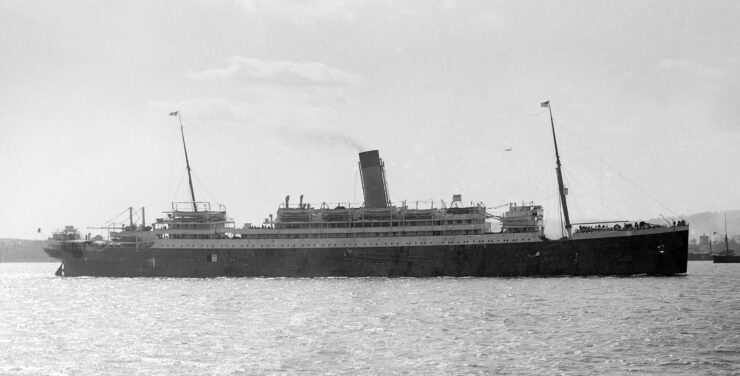 The outbreak of World War I in 1914 brought rather different duties for Laurentic, and she was requisitioned as a Canadian Expeditionary Force Troop Transport, capable of carrying 1,800 soldiers to wherever they were needed. In October of that year, she joined up with 31 other vessels in a mammoth convoy which saw 35,000 Canadian soldiers transported to Europe in the same movement!
Aboard were the Royal Canadian Dragoons, 1st Battalion, as well as more than 15,000 sacks of flour, vital supplies in times of war. Other vessels in this famous crossing included Laurentic's sister ship Megantic, as well as Cunard's Franconia, Ivernia and Saxonia, plus vessels of the Red Star, Dominion and Allan Lines.
In 1915, it was decided to convert Laurentic into an Armed Merchant Cruiser. Her sad fate was approaching fast.
In order to pay America for munitions and armaments during World War I, many vessels carried hugely-expensive cargoes to the states, and Laurentic was no exception. In the bitter-cold of January 1917, she had left Liverpool for Halifax, Nova Scotia with £5 million of gold bullion aboard.
Also aboard was a complement of 745 officers and crew. On the night of January 25th, whilst sailing around Malin Head on Ireland's north coast, Laurentic struck two mines laid by a mine-laying German submarine, U-80, which mortally-wounded the ship.
One of the mines had exploded adjacent to the engine-room, which at one stroke left Laurentic totally without power, meaning that the pumps couldn't be operated, and the lifeboats would have to be launched in the dark, a frightening prospect. The men had to get into the lifeboats quickly, but in the dark, it was a terribly-dangerous prospect, and to emphasise the point, 354 of the 745 men aboard were lost.
The loss of the Laurentic and the men aboard her was tragic, but, as far as the British Government were concerned, the gold bullion had to be brought up, and quickly. Britain couldn't afford such a devastating loss to the economy, and there was a danger that America might not be as forthcoming when requested for goods needed for the war effort.
A recovery team, led by Ernest 'Dusty' Miller, set to work immediately, and Miller was told he could have as many men as was necessary to recover the lost gold from within Laurentic. Miller and his crew spent a couple of years recovering the gold, using explosives to blast their way through the ship's hull to where it was located. A large storm, coupled with the relentless blasting, is believed to have seriously damaged Laurentic around this time.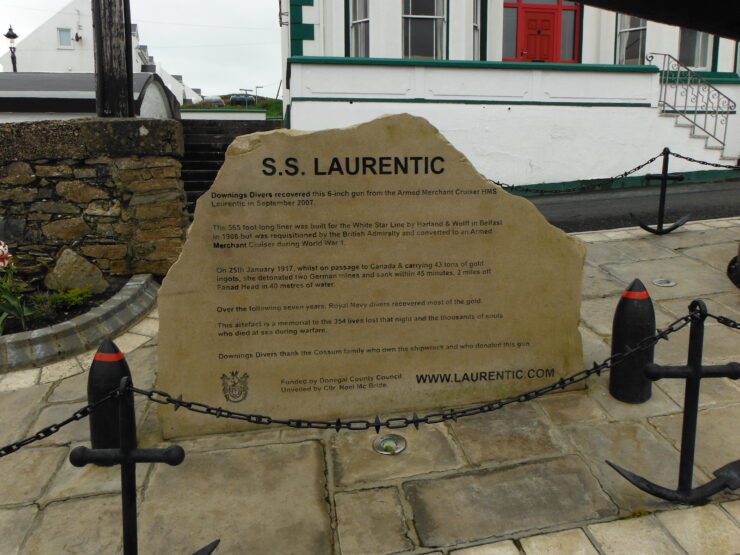 After America had entered the war, the need to recover the gold diminished, and Miller didn't return to the wreck until 1919. The job was finished in 1924, although 22 ingots were unaccounted for, probably lost when Laurentic, weakened by the blasting, was torn apart by the storms.