Builder: Harland and Wolff
Yard No.:
Launched: 1911
Maiden Voyage: 1911 Liverpool – Wellington
Gross Tonnage: 8,090 tons
Length: 477.5ft
Beam: 63.1ft
Decks: 2
Funnels: 1
Masts: 2
Propellers: 2
Engines: 2 x four cylinder quadruple expansion
Boilers: 2 double + 3 single
Speed: 13 knots
Port of Registry: Liverpool
Carrying Capacity: 6 first class, 1,000 steerage, 5 refrigerated holds
Sister Ships:
Zealandic was the last ship built by Harland and Wolff to operate the White Star – Shaw, Savill & Albion Joint Service. She was launched on June 29th, 1911, and four months later, Zealandic sailed between Liverpool and Wellington on her maiden voyage, departing on October 30th.
On January 22nd, 1913, Zealandic departed Wellington with a then record cargo for wool exports, and was also chartered by the West Australian Government as an immigrant carrier.
On July 2nd, 1915, Zealandic was chased by U-39, but her speed saved her and she escaped the raider's attentions.
Zealandic operated under the liner requisition scheme between July 1917 and June 1919, still on the same route.
On June 15th, 1919, Zealandic returned to the White Star Line, although she was re-routed via the Panama Canal.
In 1923, Zealandic took the disabled sailing vessel Garthsnaid into tow between Cape Howe and Melbourne, and was awarded £6,350 salvage money.
In 1926, due to falling trade, a new jointly-operated service, the White Star – Aberdeen and Blue Funnel Joint Service was created. Zealandic was transferred to the Aberdeen Line and renamed Mamilius, and operated the service with Herminius.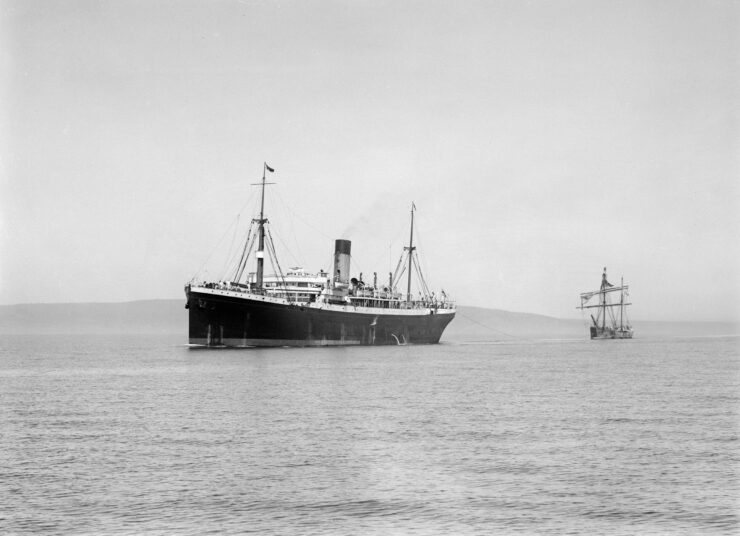 Once the Cunard White Star Line merger had become reality in 1934, Zealandic was transferred to the Shaw, Savill & Albion Line's Australian run, and renamed Mamari III.
In September, 1939, Mamari III was sold to the Admiralty and converted into a dummy version of the aircraft carrier Hermes.
On June 4th, 1941, she was making for Chatham Docks in order to be reconverted back to a cargo ship, when she was attacked by German aircraft near Cromer. In trying to avoid the attackers, she had hit a submerged wreck, and was beached. However, before she could be refloated, she was torpedoed by an E-boat where she lay beached.