Builder: Harland and Wolff
Yard No.:
Launched: 1918
Maiden Voyage: 1923
Gross Tonnage: 16,063 tons
Length: 550.3ft.
Beam: 67.3ft.
Decks: 2
Funnels: 1
Masts: 2
Propellers: 3
Engines: 2 x 4 cylinder triple expansion + turbine to centre propeller
Boilers: 6 double boilers
Speed: 16 knots
Port of Registry: Liverpool
Carrying Capacity: 190 first class, 220 second class, 480 third class
Sister Ships: n/a
Calgaric was originally laid down in 1914 as Orca for the Pacific Steam Navigation Co., but work on her ceased due to the outbreak of hostilities.
In late 1916, work on Orca resumed, and she was launched in January, 1918 for Shipping Controller as a cargo-carrying vessel only.
In February, 1921, Orca arrived back at Harland & Wolff to be completed to her original specifications.
On December 18th, 1922, Orca arrived at Southampton. Orca never operated for the South American service.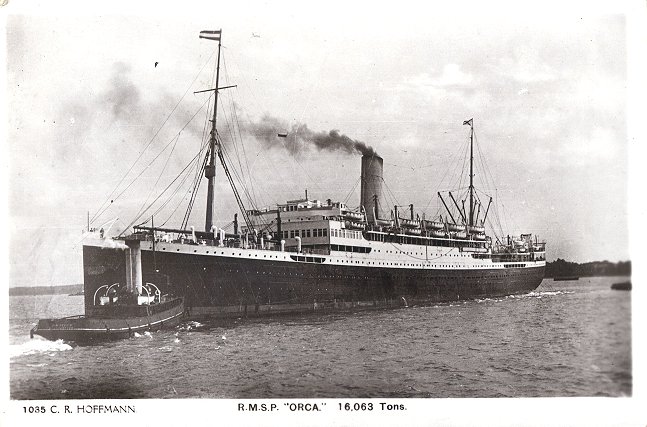 On January 1st, 1923, Orca was transferred within the group to Royal Mail Line, retaining the same name. Two days later, on January 3rd, Orca finally got round to earning some revenue for her owners, with her maiden voyage on the Southampton – Hamburg – Southampton – New York service. Halifax was added as a port of call from the next trip Orcamade on the route.
In 1924, Orca was converted to cabin class.
In 1925, the Hamburg stop was  removed from Orca's itinerary.
During December, 1926, Orca was the ship entrusted to perform the final New York sailing for the Royal Mail Line.
On January 10th, 1927, Orca was transferred to the White Star Line, and renamed Calgaric. Calgaric's accommodations were altered to carry 290 in first class, 550 in tourist, and 330 in third, and she also made her first sailing on the Liverpool – Quebec – Montreal route.
On April 20th, 1929, Calgaric was transferred to the London – Canada route.
In the September of 1930, Calgaric was laid up at Milford Haven as a reserve steamer, in a sea-ready state.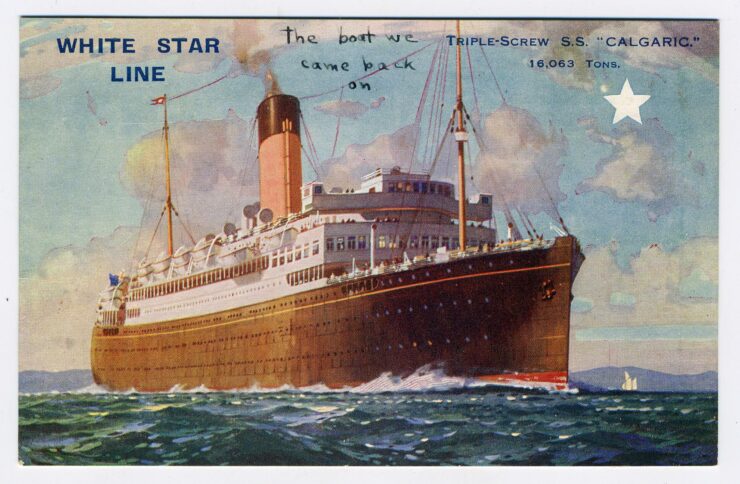 In 1931, Calgaric was employed on the summer service to Montreal, and also found herself on a cruise to the Baltic with 650 Boy Scouts, led by Chief Scout Lord Baden-Powell. Calgaric was then laid up once more at Milford Haven.
On June 9th, 1933, Calgaric was once more employed on a summer service to Montreal, and was laid up once again at Milford Haven at the end of the season.
In 1934, Calgaric was transferred to Cunard – White Star Line, however, like a lot of liners at that time, Calgaric was surplus to requirements, and put up for sale, and sold for £31,000.
On December 20th, 1934, Calgaric left Milford Haven bound for Inverkeithing, arriving on Christmas Day. Calgaric was broken-up in 1936, having been lightened at Rosyth.