Builder: Harland and Wolff
Yard No.:
Launched: 1893
Maiden Voyage: London – Plymouth – Cape – Wellington
Gross Tonnage: 7,755 tons
Length: 490ft.
Beam: 53.2ft.
Decks: 3 refrigerated
Funnels: 1
Masts: 4
Propellers: 2
Engines: 2 x triple expansion
Boilers:
Speed: 14 knots
Port of Registry: Liverpool
Carrying Capacity: 104 First Class, 114 Third Class, 17,000 carcasses of meat
Sister Ships: N/A
Gothic was built at Harland and Wolff's Belfast yard in 1893, and was launched on June 28th of that year. Gothic was designed with the capability of sailing on the North Atlantic.
Gothic was owned by the Oceanic Steam Navigation Co., and placed on the Australian joint service.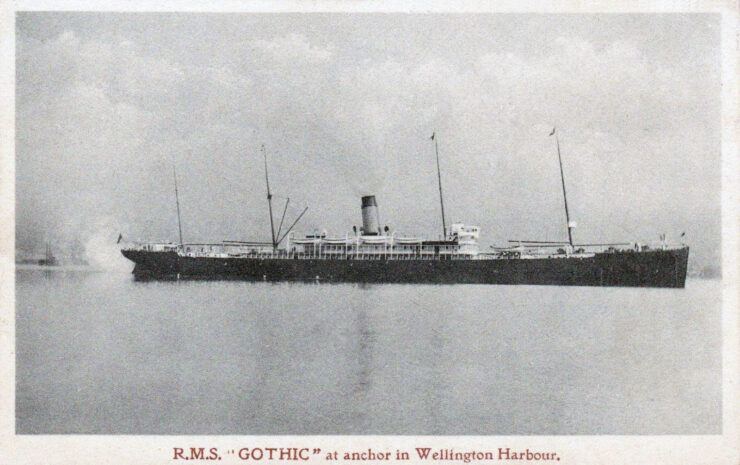 In November, 1893, Gothic made  a delivery trip Belfast and London, stopping en-route at Cardiff to coal up.
On December 28th, Gothic embarked on her maiden voyage, London – Plymouth – Cape – Wellington, and she also became the first twin screw steamer on the route, breaking the record with 37.5 days. At that time, Gothic was also the largest vessel to enter London Docks.
Gothic was used as a Boer War repatriation transport during the summer of 1902 on the Cape – U.K., and Cape – New Zealand part of the service.
In June, 1906, Gothic was beached at the Cattewater, Plymouth, after her cargo of wool caught fire off Land's End.
Repairs to Gothic took eight months, she had been altered to carry 104 First Class passengers, and 250 Third Class passengers.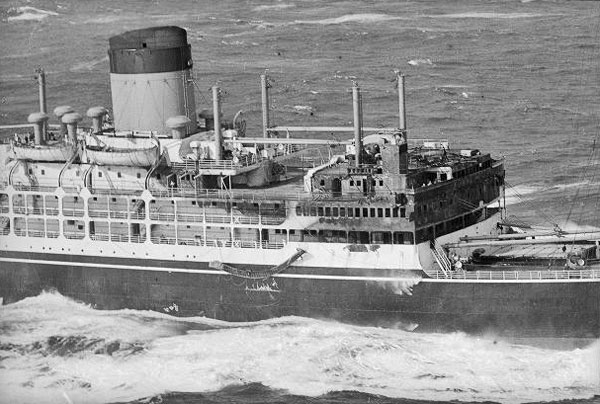 In 1907, Gothic was refitted once more, and transferred in-house to the Red Star Line. She was renamed Gothland, and sailed under a Belgium flag. Gothland served on the Antwerp – Philadelphia run, and then the Antwerp – New York route.
In 1911, Gothland was placed on the Australian service, under White Star Line stewardship, and renamed Gothic, with accommodation for 1,500 Third Class passengers.
In 1913, Gothic was transferred back to the Red Star Line, reverting to her previous name, Gothland, operating a summer service on the Rotterdam – Quebec – Montreal route.
On 23rd June, 1914, Gothland ran aground on Gunners Rocks, Scilly Isles. Everybody was safely removed by the steamer Lyonesse and local lifeboats, and repairs at Southampton took six months.
In the August, she Gothland transferred to the Rotterdam – New York route after overrun in Belgium.
After yet another refit, Gothland returned to the Antwerp – New York – Baltimore route in 1919.
In May, 1921, Gothland served with the White Star Line, but kept her name.
During 1922, Gothland spent several months laid-up.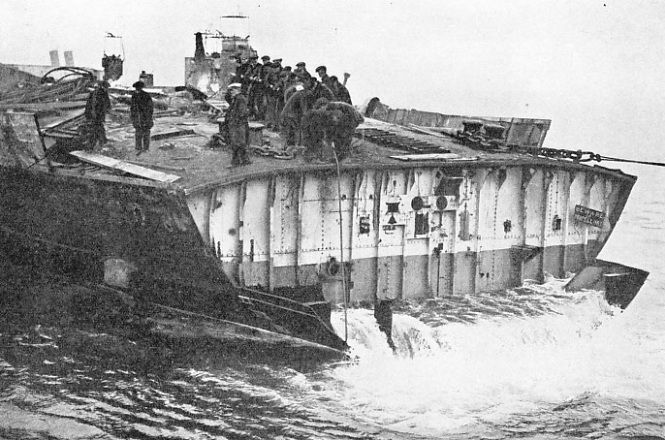 In May, 1923, Gothland was tried on an Antwerp – Vigo – Havana – New York service, but this was too long winded, and in Autumn, Gothland resumed the Antwerp – Philadelphia run.
Gothland made her final Antwerp – Philadelphia voyage for Red Star, and the following year, Gothland was sold for £16,000, and broken-up at Rosyth, Firth of Forth.