Builder: Harland and Wolff
Yard No.: 323
Launched: 1898
Maiden Voyage: 1899 Liverpool – Cape Town – Sydney
Gross Tonnage: 11,985 tons
Length: 550.2ft
Beam: 63.3ft
Decks: 3
Funnels: 1
Masts: 4
Propellers: 2
Engines: 2 x four cylinder quadruple expansion
Boilers: 4 double ended + 1 single
Speed: 14 knots
Port of Registry: Liverpool
Carrying Capacity: 320 passengers, 100,000 refrigerated carcasses
Sister Ships: Afric, Persic, Runic II , Suevic (Jubilee Class Liners)
Medic was the second of the quintet of Jubilee Class liners to be constructed at the Belfast shipbuilders Harland and Wolff.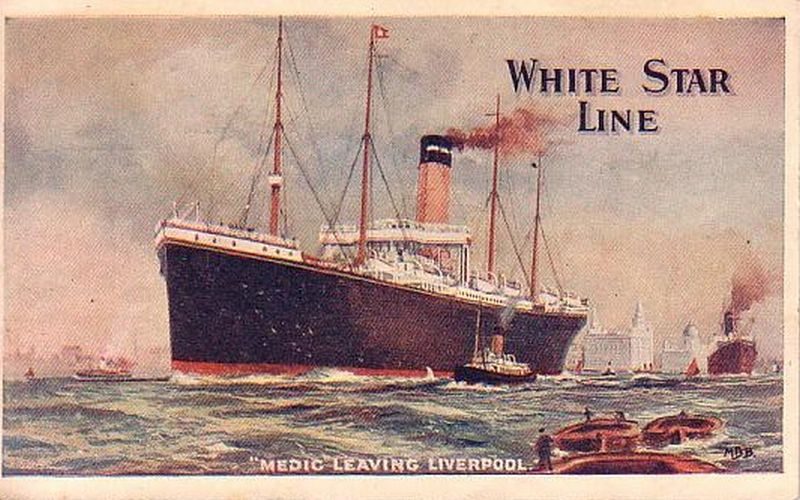 Launched on December 15th, 1898, Medic's maiden voyage followed just seven months later on August 3rd, 1899 between her port of registry, Liverpool, and the route which she'd been designed for, Cape Town and Sydney.
Charles Herbert Lightoller began his long career with the White Star Line in the January of 1900, when he joined the Medic as her fourth officer.
During World War 1, Medic remained in commercial service, although under the Liner Requisition Scheme for a couple of years before returning to her regular service to Cape Town and Sydney once again in 1919. She remained on the White Star Line's Australia run until 1927.
In 1928, Medic was sold to N.R. Bugge, a Norwegian whaling company, who converted her into a whaling fleet factory ship, renaming her Hektoria.
During World War 2, Hektoria was converted to carry oil by the British Ministry of War Transport. It was whilst operating in this role, she was torpedoed and sunk in the Atlantic by a German U-Boat, U-608, on September 11th, 1942.