Builder: Harland and Wolff
Yard No.: 77
Launched: October 17th, 1871
Maiden Voyage: 1872 Liverpool – New York
Gross Tonnage: 3,888 tons
Length: 437.2 ft.
Beam: 40.9ft.
Decks: 2
Funnels: 1
Masts: 4
Propellers: 1
Engines: 2 x 2 cylinder compound
Boilers: 12
Speed: 14.5 knots
Port of Registry: Liverpool
Carrying Capacity: 50 first class, 800 third class
Sister Ships: Celtic I
Adriatic I was one of two liners, the other being her sister vessel Celtic I, which were both constructed by Harland and Wolff for the White Star Line. The commercial success of the quartet of Oceanic-class liners of Oceanic I, Atlantic, Baltic I, Republic I, led to the construction of Adriatic I and Celtic I, which were also similar in layout and dimensions.
Adriatic I was launched at Harland and Wolff's Belfast yard on 17th October, 1871. Adriatic I set sail on her maiden voyage beween Liverpool and New York on April 11th, 1872. Adriatic I took the westbound record the following month, at an average of 14.52 knots, which had previously been held by the Cunard Line's Scotia.
In October, 1874, Adriatic I collided with the Cunard Line's Parthia whilst both ships were departing New York. Both vessels were steaming parallel courses when the venturi effect pulled them together, causing some contact, but both ships suffered minimal damage.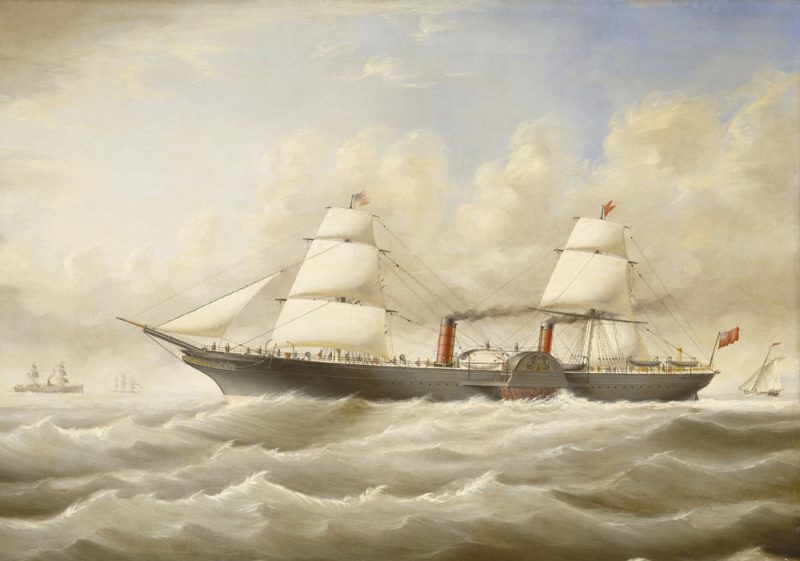 During 1875, Adriatic I was involved in two further collisions, however, they were far more serious than the previous encounter. The first, in March, happened during fog, and Adriatic I ran down and sank the U.S. schooner Columbus off New York. The second, during December, happened at night when Adriatic I hit and sank the sailing schooner Harvest Queen in St. George's Channel.
On July 19th, 1878, Adriatic I collided with the brigantine G.A. Pike off Tuskar Rock, South Wales, Adriatic I was blamed for the collision due to excessive speed.
During 1884, Adriatic I's accomodations were altered to include 50 in second class.
During November 1897, Adriatic I made her final voyage, and was laid-up at Birkenhead in reserve.
On February 12th, 1899, Adriatic I arrived at Preston, Lancashire for breaking-up at Thomas W. Wards.