Builder: Harland and Wolff
Yard No.:
Launched: 1874
Maiden Voyage:
Gross Tonnage: 5,008 tons
Length: 455ft
Beam: 45.2ft
Decks: 2
Funnels: 2
Masts: 4
Propellers: 1
Engines: 2 x 2 cylinder tandem compound
Boilers: 8
Speed: 16 knots
Port of Registry: Liverpool
Carrying Capacity: 220 first class, 1,500 third class
Sister Ships: Britannic I
Germanic was laid down at Harland and Wolff's Belfast Yard in 1874, and was the younger sister vessel of Britannic I. The two ships had been designed with a drop-propeller system that enabled the angle of the propeller to be altered at sea, but it had proved to very ineffective in service, and Germanic's drop-propeller system was removed whilst the vessel was still being built. The two ships were also fitted with four masts, and carried yards and sails, which were really only there for emergencies, however, these would prove their worth in time.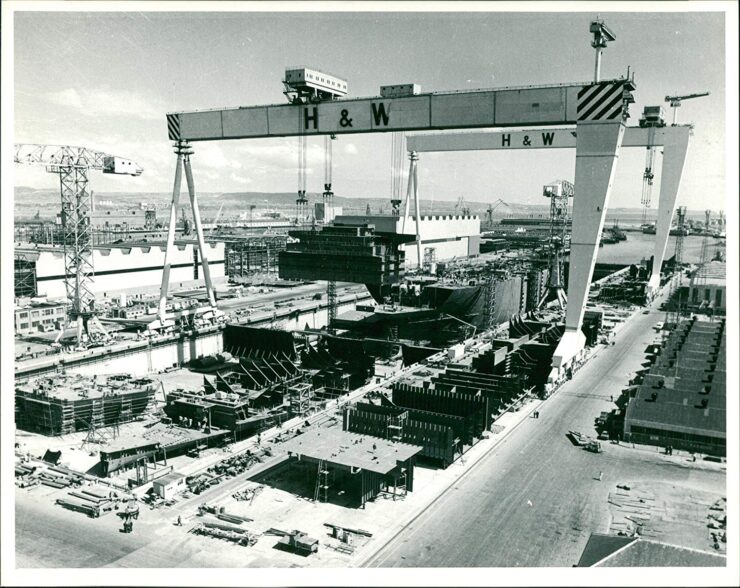 Germanic was launched on 15th July, 1874, and although she was ready for service in early 1875, the White Star Line didn't actually require her until May, so she waited at Belfast until that time.
Germanic eventually departed Liverpool on her maiden voyage bound for New York via Queens town on 30th May, 1875. Like her sister before her, Germanic was built for speed, and it didn't take too long before she made the headlines with a record-breaking eastbound crossing of the Atlantic. She took just 7 days, 15 hours and 17 minutes at an average speed of 15.79 knots to claim the Blue Riband in the February of 1876.
The following April, Germanic took the westbound Blue Riband, with a crossing of 7 days, 11 hours and 37 minutes at an average speed of 15.76 knots. The Blue Riband was of course the icing on the cake for liners, and it brought immense kudos to the White Star Line, which of course translated into higher passenger numbers, increasing revenues.
In the January of 1883, Germanic was traveling the familiar route to New York when her propeller shaft broke. The out-of-date sails were brought into action, and she sailed safely back to Waterford in Ireland.

Twenty-one years after being laid down at Harland and Wolff, Germanic returned to undergo a major refit and modernisation in 1895. She was fitted with a more economical triple-expansion engine which increased her speed by 1 knot, higher-pressure boilers were installed, an extra deck was fitted and her funnels heightened.
After her refit, Germanic had the honour of departing Liverpool from the brand new floating Princes Landing Stage on 15th May, 1895.
On 13th February 1899, during an intense blizzard, Germanic became top heavy from the snow and ice that had accumulated on her masts and rigging, and sank. Luckily, she was in New York harbour at the time, and only 10 days later, she was refloated, and sailed back to Harland and Wolff under her own power for a much-needed refit.
During her years on the North Atlantic, Germanic made 211 voyages and steamed more than 1.5 million miles, no mean feat for a ship of her era.
Germanic continued to serve the White Star Line until September, 1903. After 28 years of service she was transferred to the Dominion Line, and renamed Ottawa to reflect her new owners and duties.
In March 1911, Ottawa was sold to the Imperial Ottoman Government, and renamed Gul Djemal.
On 3rd May, 1915, she was hit by a torpedo fired from the British submarine E14 whilst serving as a troop transport. Despite severe damage to her bow, Gul Djemal was able to make for Istanbul where she underwent repairs.
In October 1920, Gul Djemal was chartered to the Spanish shipping line Mount Royal Steam Ship Co., taking emigrants to New York from Mediterranean and Black Sea ports.
In 1921, Gul Djemal continued to work on th Black Sea emigration runs, but this time she was operated by the Ottoman American Line.
Gul Djemal was sold yet again, this time to Turkiye Seyrisefain Idaresi, and was renamed Gulcemal.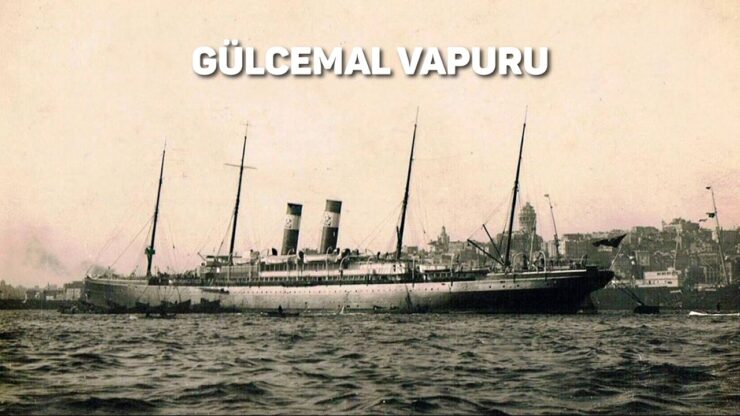 In 1933, with close to 60 years service behind her, Gulcemal ran ashore. She was subsequently transferred to lighter duties, and became a coastal trader.
By 1949, the end was nearly in sight, and Gulcemal, her engines intact but with her superstrucure cut down, was being used as a storage ship.
The following year Gulcemal was converted into a floating hotel, but unfortunately, it was very short-lived, and the former record-breaking speedster was towed to Messina, Sicily, to be broken up, after an incredible 75 years of service.