Builder: Harland and Wolff
Yard No.: 270
Launched: 23rd September, 1893
Maiden Voyage:  12th January, 1894 Liverpool – New York
Gross Tonnage: 8,301 tons
Length: 523 ft
Beam: 60 ft
Decks: 2
Funnels: 1
Masts: 4
Propellers: 2
Engines: 2 x triple expansion engines
Boilers:
Speed: 13 knots
Port of Registry: Liverpool
Carrying Capacity: 1,000 head of cattle
Sister Ships: N/A
Cevic was a livestock carrier built at the Belfast yard of Harland and Wolff for the White Star Line, in 1893, as a replacement for the lost Naronic. Cevic was launched on the 23rd September, 1893, and her maiden voyage between Liverpool and New York began on the 12th January, 1894.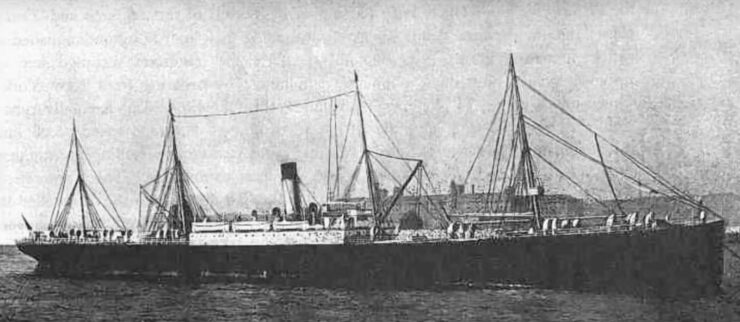 Cevic, which at the time was the largest freighter in the world, returned from New York with the largest cargo to date, which included 14,000 bushels of grain, 9,000 bales of cotton, 3,500 sacks of flour, 400 tons of metal, 300 tons of fresh meat, 8,400 packages of various produce, and she still had room for 896 cattle inside her cavernous holds.
In 1908, the New York cattle service came to an end, and Cevic then served on the Australia route, via the Cape. Cevicthen experimented with traversing the Suez Canal, but her size, coupled with her deep draught, caused her to ground, and prevented her use on the route.
On the 1st December, 1914, Cevic was converted by Harland and Wolff into a dummy battleship, HMS Queen Mary. Part of this subterfuge involved fitting her with two extra dummy funnels, to change her profile, which was designed to trick any enemy raiders that she was a Battleship protecting supply ships.
On the 11th February, 1915, HMS Queen Mary was grounded on her way to Loch Ewe, and had to return to Harland and Wolff, for repairs. She left Belfast on the 10th April, and found herself grounded once again, this time on Rathlin Island, in fog, but she was refloated on the next tide. On the 13th April, HMS Queen Mary left Loch Ewe, to patrol.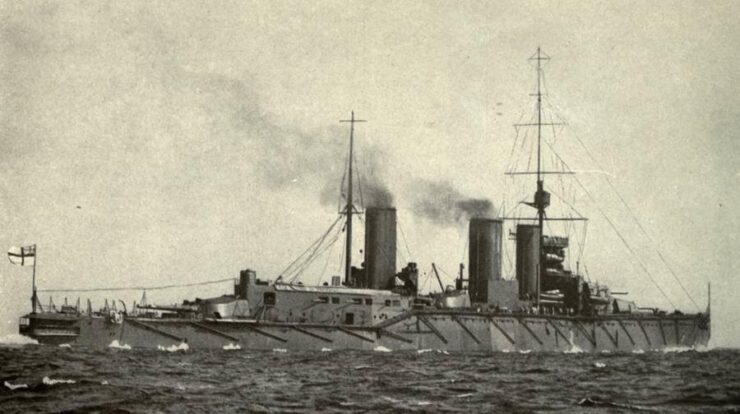 On the 25th April, 1915, HMS Queen Mary was sent to patrol off New York, after the German armed raider, Kronprinz Willhelm had, on that same day, applied to be interred there after missing a scheduled rendezvous with her supply ship, and running low on supplies and fuel. HMS Queen Mary's disguise was never penetrated, and in the September, HMS Queen Mary was decomissioned, and restored to her original layout.
In 1916, she was converted into an oil tanker, and renamed Bayol, operating as a Royal Fleet Auxilary.
Bayol was transferred to the Shipping Controller in 1917, and renamed Bayleaf. Bayleaf was managed by Lane & McAndrews, and continued to operate as a fleet oiler servicing the Royal Navy's shore depots.
On the 9th June, 1920 Bayleaf was sold once again, this time to the Anglo-Saxon Petroleum Company, now known as Shell, and underwent yet another change of name, this time to Pyrula, and operating as a depot ship at New York.
In 1925, Pyrula was transferred to Curacao as the depot ship, and retained her name!
On the 25th July, 1933, Pyrula was sold for breaking up at Genoa.