Builder: Harland and Wolff
Yard No.:
Launched: 1911
Maiden Voyage: N/A
Gross Tonnage: 675 tons
Length: 175 ft.
Beam: 35 ft.
Decks: 2
Funnels: 1
Masts: 1
Propellers: 2
Engines: 2 x twin cylinder compound inverted engines
Boilers:
Speed: 12 knots
Port of Registry: Liverpool
Carrying Capacity: 1,200 passengers from third class + mails
Sister Ships: N/A
Traffic was designed and built by Harland & Wolff, and launched on 27th April 1911, only two days after Nomadic's own launch. Her more glamourous sister vessel, Nomadic, was designed to carry the First & Second Class Passengers, and it was Traffic's duty to carry the Third Class or Steerage Pasengers to and from the liners that called at the port. Traffic also carried items of mail, cargo and baggage, and to enable the swift transfer of these items, she was fitted with electrically-operated conveyors on the fore and aft to speed-up this often time-consuming task.
One can imagine the friendly rivalry between the officers and crews of the two vessels as they transferred their passengers to the liners, one carrying the rich, the famous and the educated, the other carrying what would then be considered to be the 'dregs' of society in the early nineteen-hundreds.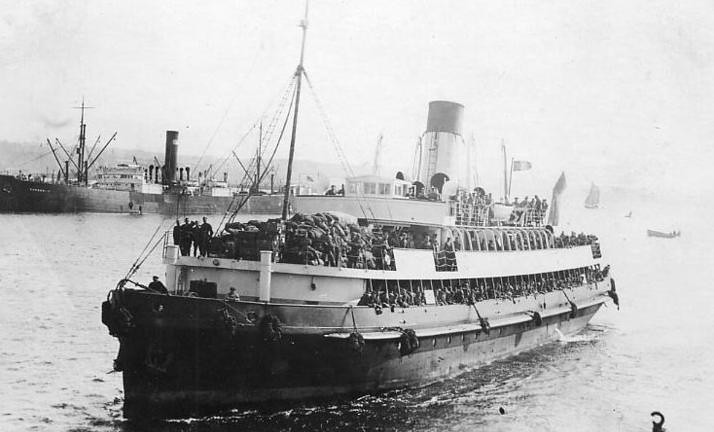 The two vessels' first duty was to attend Olympic on the day of her sea trials, 29th May 1911, a mere four weeks after Traffic's launch. They then sailed for Southampton and Cherbourg, where they entered service as tenders to White Star Line vessels calling at the French port.
On 10th April 1912, Traffic took her place in the whole Titanic story when she carried the Third Class Passengers and assorted mail and baggage to the liner, moored out in the roadstead.
With outbreak of World War One in 1914, Traffic served as a tender as before, but instead of carrying passengers going to seek a better life in the New World, she carried soldiers out to the waiting troop transport vessels, and during this time she carried huge amounts of American, British and Canadian troops until the end of hostilities in 1919.
In 1927, Traffic and Nomadic were sold to Societe Cherbourgeoise de Transbordment, and although their duties were unchanged, they would now serve any vessel visiting the port, rather than just ones belonging to the White Star Line.
On 5th June 1929, Traffic collided with fellow White Star Line stablemate Homeric, sustaining damage to some of her hull plates on the starboard side of the vessel. Subsequent enquiries found that Traffic was notoriously difficult to handle, and a new set of propellers were designed and cast at Harland & Wolff's yard, and they were delivered and fitted in October of 1929.
The newly-designed propellers certainly did the trick, and the handling was notably improved, although they could do nothing to prevent yet another collision in December with the Atlantic Transport Line's Minnewaska IV, again causing minor damage. Nomadic, perhaps keen to seek some kind of retribution with Minnewaska IV, damaged her own bow in a collision with her on 29th November, 1931!
In 1934, the company who owned Traffic became Societe Cherbourgeoise de Remorquage et de Sauvetage. She underwent a change of livery, sporting a black funnel with a red band around it, and at the same time she was renamedIngenieur Riebell.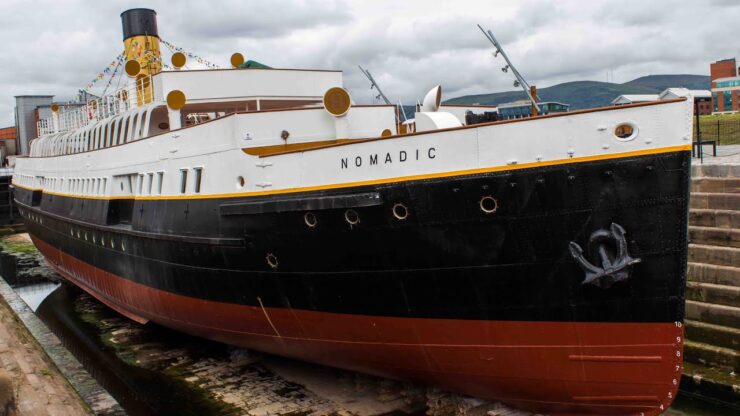 On the 17th June 1940, Ingenieur Riebell was scuttled by the French navy at Cherbourg. This had the dual benefits of making Ingenieur Riebell useless to the advancing German forces, and partly blocking the port. The actions were only temporary however, as the German navy raised Ingenieur Riebell and restored her to service as an armed coastal convoy escort.
Sadly, Ingenieur Riebell was torpedoed and sunk whilst serving for the German navy on 17th January 1941, however, her sister Nomadic still survives to this day.