Builder: Harland and Wolff
Yard No.:
Launched: November 17th, 1920
Maiden Voyage: June 6th 1922 Liverpool – Cobh – Philadelphia – Boston
Gross Tonnage: 16,322 tons
Length: 601 ft.
Beam: 67.8 ft.
Decks: 4
Funnels: 2
Masts: 2
Propellers: 3
Engines: 2 x triple expansion engines + l.p. turbine on center propeller
Boilers: 6 x double boilers
Speed: 15 knots
Port of Registry: Liverpool
Carrying Capacity: 600 cabin class, 1,800 third class
Sister Ships: Doric II, Regina
Pittsburgh was originally laid-down at Harland and Wolff's Belfast yard for the American Line, a part of the International Navigation Co., however, in August, 1914, work on Pittsburgh was suspended due to the outbreak of World War I.
On November 17th, 1920, Pittsburgh was launched, with the intention of joining the American Line, however, she was completed in White Star Line livery, and yet she was still registered to the International Navigation Co. Pittsburgh was converted to oil burning, and her second funnel is also  dummy. Pittsburgh was fitted with Topliss davits, however these were replaced in 1928 with Welin davits.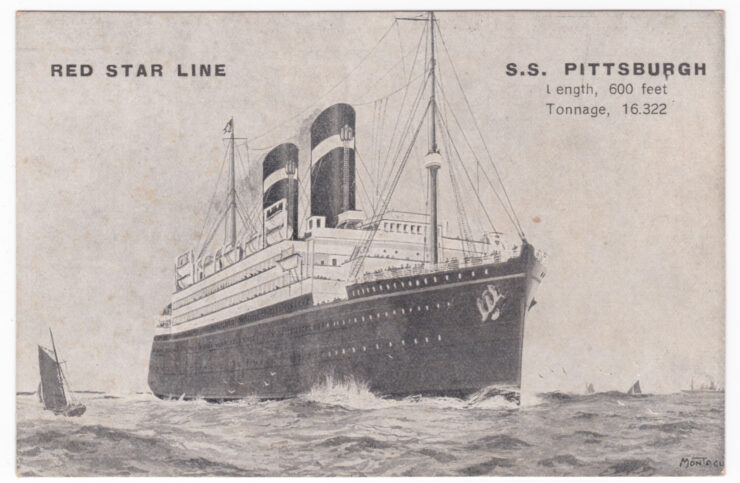 Pittsburgh's maiden voyage, on June 6th 1922 between, Liverpool, Cobh, Philadelphia and Boston was for the White Star Line. She operated with her fellow White Star Line stable-mate Haverford.
On November 14th, 1922, Pittsburgh was traveling between New York and Bremen, when she came to the rescue of a new Italian liner, the Monte Grappa, rescuing her crew of 45.
On December 1st, 1922, Pittsburgh made her first sailing on the Bremen, Southampton, Halifax and New York route.
In the April of 1923, Pittsburgh's wheelhouse was demolished by a giant wave, injuring those on the bridge, and in November the same year, Hamburg became the terminus rather than Bremen.
On January 20th, 1925, Pittsburgh was placed on the Red Star Line's Antwerp, Southampton, Cherbourg and New York route. In keeping with Pittsburgh's very strange ownership and management history, she was registered with Frederick Leyland & Co.!
The following year, Pittsburgh was renamed Pennland II for the Red Star Line, making her first sailing under her new guise on February 18th 1926, but staying on the same route.
On November 16th, 1934, Pennland II made her last sailing for Red Star Line before the collapse of the company.
In the January of 1935, Pennland II was sold to Arnold Bernstein of Hamburg for his Red Star Line GmbH. Pennland IIwas then re-fitted at Kiel to accommodate 550 tourist class passengers, and 1,500 in third class. Pennland II then operated on the Antwerp, Le Havre, Southampton, Halifax and New York run.
When the Holland America Line took over the Red Star Line GmbH in 1939, Pennland II was sold too, but she kept her name and route. However, in September, Pennland II sailed with the word 'Rotterdam' , together with Dutch colours on her sides.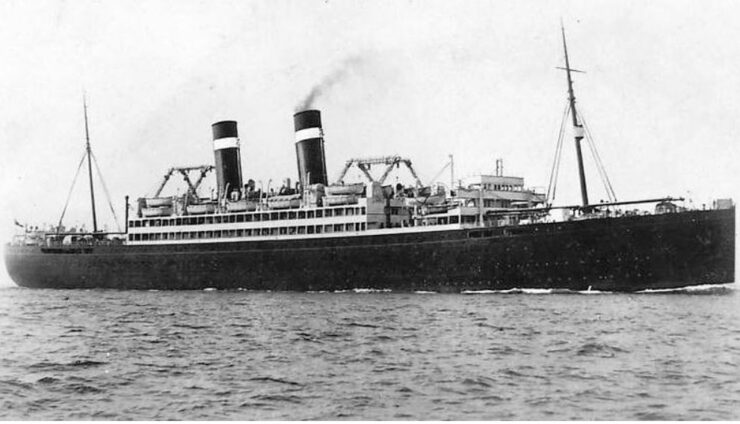 On April 27th, 1940, Pennland II made her last sailing from Antwerp, then returned to Liverpool, and was chartered by the Ministry of War Tramsport as a troopship, but under Dutch operation.
After the July attempt to immobilise the French battleship Richlieu, Pennland II sailed to Dakar with General de Gaulle and 1,200 Free French aboard, on August 30th 1940. The troops disembarked at Duala. Pennland II next sailed to Jamaica and Canada for trooping to the U.K.
In 1941 Pennland II carried troops to Egypt, and also took reinforcements to Greece. On her second of these voyages, on April 25th, Pennland II was bombed a total of seven times and sank in the Gulf of Athens.